Do you want to rank high in the search engines without spending a lot of money?
The answer to that one is pretty simple. Of course you do. Allow me to introduce the best Search Engine Optimization (SEO) plugin available for your MattShuman.com network website, NiceGuy SEO. This plugin offers a lot of the same features that would normally costs you hundreds of dollars per month, setup by a search engine placement company. You save money because you set it up yourself and by using the NiceGuy SEO plugin, you can control how your content is displayed in a wide variety of search engines.
Benefits of this awesome search engine optimization plugin include:
SEO Moz Report – provides accurate SEO information about your site
Automatic Links – automatically link specified keyword phrases to content
Much more!!!
Here is a screenshot of the SEO Meta Data that can be easily created on every Post and Page. Also in the screenshot is a preview of what the Post/Page looks like featured in a search engine. This information is very valuable if you know how to use it to your advantage. You too, can have a high page Google Rank using nothing but the NiceGuy SEO plugin.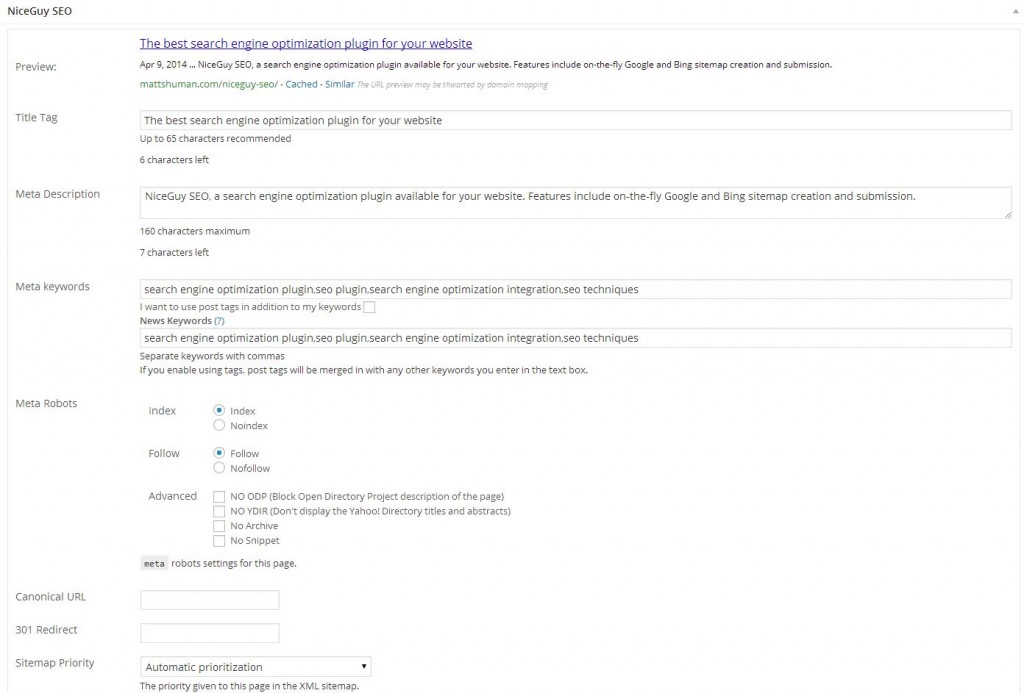 You can add this search engine optimization plugin to any Pro Site Package for $19 per month.